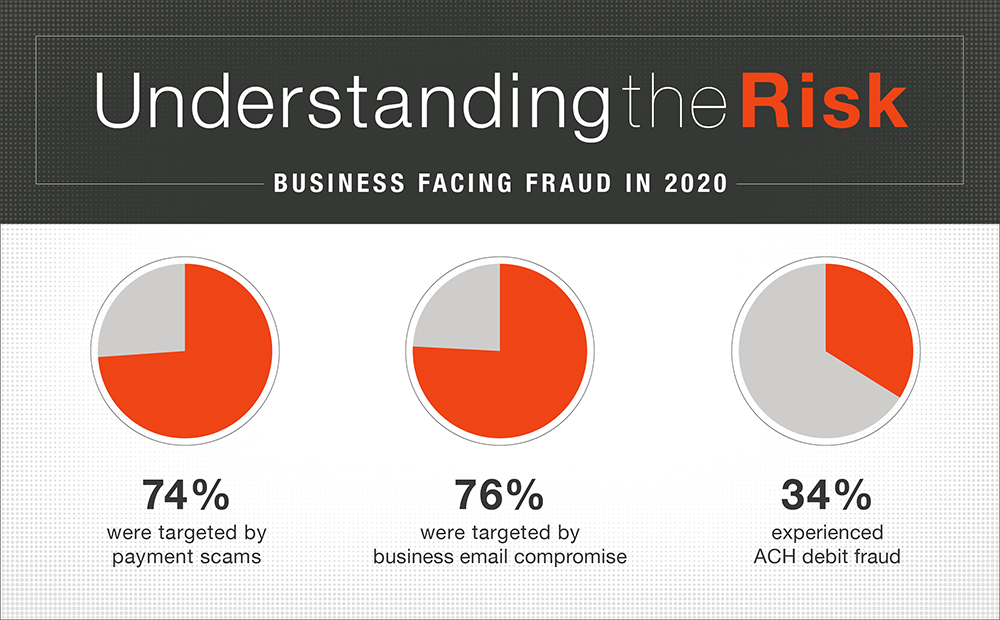 Fraud protection in 2020
85% protect their business from check fraud with positive pay
61% protect their busines from fraud with multi-factor authentication
Assurance and control over fraud
Digital banking solutions have become even more critical to your business's day-to-day financial management. These solutions provide the freedom to experience faster service and access to your business's accounts wherever and whenever you want. As you bank with these conveniences, it's important that your business's financial information is properly protected to ensure secure transactions and prevent fraud.
The statistics above display the potential risks of fraud for business utilizing data collected in the AFP® 2021 Payments Fraud and Control Survey.
Sharing Knowledge, Building Trust
In recent episodes of our Sharing Knowledge Series, we explored the topics of cybersecurity as well as cyber insurance, with customers and industry experts, to learn about their respective roles in protecting businesses from cyber-attacks. 
Cybersecurity
Cyber insurance

Our featured industry experts for further support on these topics, include: 
Jarrod Long, CTP, senior vice president and treasury management leader, as well as certified fraud expert, Westfield Bank
Cyber security:
Ken Fanger, president, On Technology Partners
Fred Franks, chief strategy officer, FIT Technologies
Cyber insurance:
Lacy Rex, vice president, cyber strategic leader, Oswald
Our parent company, Westfield Insurance
---
Move from vulnerable to protected with Secure.
Established to provide a comprehensive suite for additional security on transactions, Secure protects your business and puts you in control over fraud. 
 
Positive Pay services
As an added security measure to reduce check fraud for business banking customers, our Positive Pay Services automatically match your transaction information with transactions presented for payment against your account to identify and report fraudulent and unauthorized payments for both checks and ACH.
Check Positive Pay matches each check's information presented against a list of checks previously authorized and issued by your company. 
ACH Positive Pay compares identifying information within an ACH debit transaction attempting to clear your account against a list of ACH debits previously authorized and issued by your company.

Account reconciliation
Detecting errors, discrepancies, or fraud, account reconciliation compares your business's financial records against statements from your bank accounts to ensure they match. 

Multi-factor authentication
Multi-factor authentication adds a second layer of security, protecting your banking information by requiring additional verification to log in to your online or mobile banking account. When logging into your account, you'll be prompted with a text or call directly to your phone and provided with a unique security code for your session.