Peer-to-peer payments: what you need to know in the digital banking era
From sending money to your child or grandchild to paying your friend back for picking up the dinner tab, chances are you've turned to peer-to-peer (P2P) payments in recent years. A strong majority of Americans (64 percent) use P2P payments, according to a recent Consumer Reports survey.
From apps like Venmo to Zelle and many more, P2P payment tools offer consumers ease and convenience in the age of digital banking. Whether you've managed to make it to 2023 without utilizing peer-to-peer payments or you use this digital banking tool on a daily basis, it's important to understand how these payment methods work, the benefits, and the risks associated with their use.
What is peer-to-peer payment?
Put simply, peer-to-peer (P2P) payments are a money transfer method in which you send money directly to another person, or vice versa. This can often be done through a mobile app linked to your bank account. These apps include personal profiles with identifying information, like a username, profile picture, and contact information so that you can ensure you are paying the correct person. Once money is paid, the fund received can be stored on the app by the recipient and used for future transfers or it can be transferred to a linked bank account.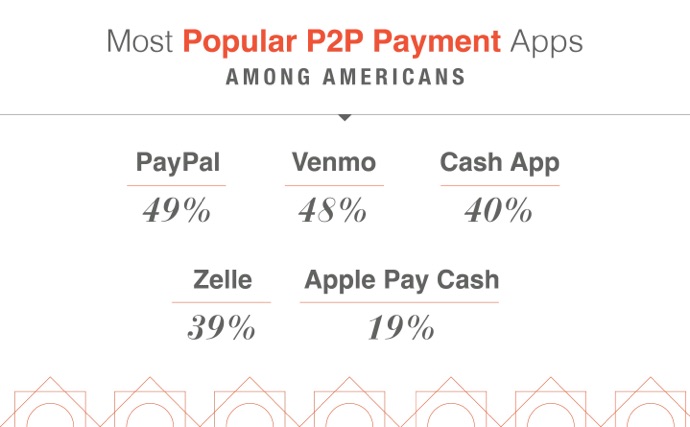 What are the advantages of using peer-to-peer payments?
The ease and convenience of payment that peer-to-peer payment services provide are among the top advantages to this method, which can help explain why a majority of consumers rely on it for at least some of their payments. Once your bank account is linked, it just takes a couple of clicks on your smartphone to make a payment. There's no need to have exact change in your wallet or to write out a check, and the payments can be made anytime or anywhere. Instead of trying to split a bill at a restaurant or buying concert tickets separately, one person can make the purchase and the rest of the group can easily and quickly reimburse their portion of the bill.
What are the risks of using peer-to-peer payments?
It's hard to deny the advantages of P2P payments, but there are some risks to keep in mind. Like any online banking tool, the threat exists for cyber breaches and scams. You might accidentally send a payment to the wrong contact, or the money saved on your account is accessed by a hacker. In events like these, you don't have the same recourse that you have when you're directly using your bank account or credit card to make payments. Reputably peer-to-peer payment apps have increased security measures, and if you take careful steps to avoid making erroneous payments, the risks are pretty low. But if you lose any money on an unauthorized peer-to-peer payment, your bank likely isn't responsible for returning your money. That's why it's always best to review the security services put in place by the money transfer app you're using.
What are the best apps for peer-to-peer payment?
When it comes to making P2P payments, you have several options to choose from – and you don't have to limit yourself to just one service. A Consumer Reports survey found that the most popular peer-to-peer among Americans who regularly utilize the services are as follows: PayPal (49 percent), Venmo (48 percent), Cash App (40 percent), Zelle (39 percent), and Apple Pay Cash (19 percent). Other peer-to-peer apps trusted by consumers include Google Pay, Facebook Pay, Western Union, and Remitly. To decide which apps are best for you, it's important to carefully read the terms of service and check with your bank before using these.
The bottom line
P2P payment apps can be a great way to manage your daily financial transactions more efficiently, especially if you take precautions to avoid scams. You'll want to understand the intricacies of each service, such as any fees the provider takes on money transfers, how enhanced the security measures are, and how quickly you can access funds transferred to your account. Knowing these details are essential to safe, effective, and convenient banking in the digital era.
To learn more about mobile and online banking solutions to bank whenever and wherever you want, read this article.
Peer-to-peer payment tools explained
Now that you have the information you need about P2P payment tools, let's link your Westfield Bank account with an online or mobile P2P payment provider.
Link your Westfield Bank accounts
Visit your preferred P2P provider below to find step-by-step instruction on how to manually add your Westfield Bank accounts or cards:
Add your Westfield Bank account number and routing number from a check or via online banking
After you have added your bank account or card, you may receive micro-transfers from them that need to be verified for account ownership purposes. To verify, you'll need to confirm the amounts received by logging into your Westfield Bank account via online or mobile banking.
Enroll or update your mobile number with Westfield Bank
If you want to enroll or update your mobile number with Westfield Bank, here are the steps you should follow:
Sign on to Westfield Bank online banking or mobile banking
Click on the "My Profile" link
Click on the "Change my phone number" link
Follow the on-screen instructions to enroll or update
Once you have successfully enrolled a mobile number, you can proceed to link your account.