Your bank should be a trusted ally throughout your financial journey. It's important to understand the various ways your bank can set you up for success and know what mistakes to avoid when working with your banker.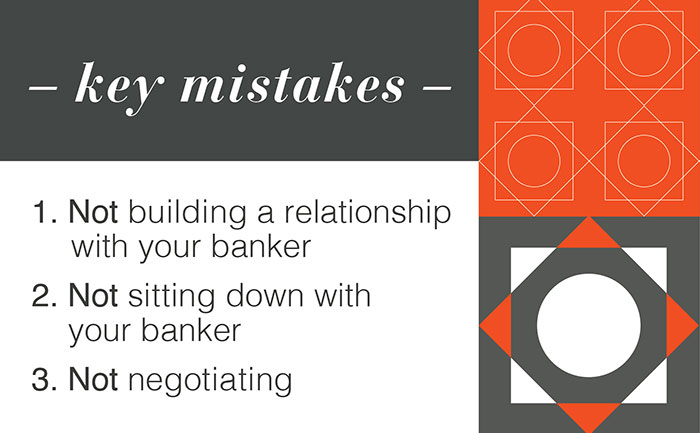 Here are a few key mistakes you want to avoid as you pursue your goals:
Not building a relationship with your banker

It's easy to think of your relationship with your bank as simply transactional. But that doesn't have to be the case.

There's the bank – the physical (or digital) financial institution – and there's the banker. Finding a banker who is a trusted professional can play a significant role in your financial journey as they are equipped with the advice and guidance needed to help you make decisions that will set you up for success. If you're applying for a loan or line of credit, looking to make bold investments, trying to save for your retirement, or need any other type of financial guidance, you don't need to guess or make uninformed decisions. 

From the pandemic to inflation and rising interest rates, there's a lot of uncertainty going around. Having a relationship with a banking professional you trust is about as important as it's been in recent history. At Westfield Bank, our banking team puts the customer experience first and foremost, fostering closer relationships and creating more opportunities to gain insights and recommendations on your personal finances. 
 
Not sitting down with your banker

Maintaining regular communication with your banker is recommended throughout your financial journey. Often, this can involve simply picking up your phone to access funds or pay your bills. Simple budgeting questions or technical assistance regarding your bank account can often be addressed on the phone or via mobile banking apps. 

While banking is quick, convenient, and enables you to easily access your account when you're on the go, there will be occasions where it's worth sitting down with your banker to devise a plan that's best for you. Major life events such as buying or selling a home, getting married or having a child, planning for retirement, or dealing with a financial emergency are instances when you want to lean on your banker to come up with a plan that will ease your stress and put you in the position you want to be in. In these instances, don't overlook the significance of finding the time to sit down and have a detailed discussion with your banker about your needs and goals.
 
Not negotiating

If you're looking to take on a mortgage or any other type of personal loan, remember that the terms of the loan aren't ironclad when first offered by the lender. Be sure to consider all options and ask your bank to match the lowest rate you can find elsewhere. No matter the type of interaction, don't hesitate to negotiate for a deal that's best for you. At Westfield Bank, our goal is to create custom solutions to empower you on your journey to financial freedom.
The bottom line
It can't be stressed enough the importance of having a banking professional in your corner who understands your goals and prioritizes your success. We're proud to offer Westfield Bank customers industry-leading rates, personalized service, unmatched convenience, and the latest banking technology.