Buying your first car
Buying your first car is an exciting moment, but if this is your first time at a dealership, you may struggle navigating the purchasing and financing processes. Westfield Bank is here to help by providing information on how to buy your first car and drive forward.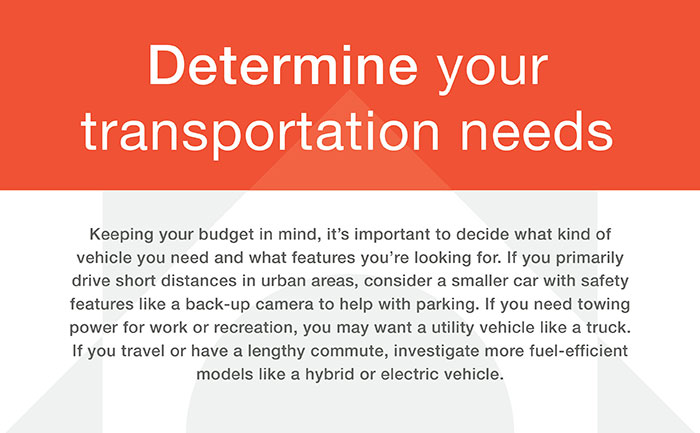 Save for upfront costs
Whether you pay for a car in full or secure financing, there are upfront costs to consider. The more money you put into your down payment, the lower your monthly payments will be. Don't forget—there are also upfront costs for the title and registration of your vehicle.
Do market research
Before you decide to move forward in the financing and purchasing processes, do some research to determine if it is the best time to buy a car. The automotive industry, like any other, is impacted by changes in the market economy. For example, 2021 saw a computer chip shortage that resulted in reduced car inventories, which drove up the prices of both new and used cars.
Secure financing 
Most people do not pay for a car, new or used, in full. Instead, they apply for an auto loan from a bank, car dealership, or other financial institution. In exchange for borrowing this money, you pay the loan back with interest and possibly some lending fees. Do your research on financing options. Some car dealerships offer their own financing, or you could choose to secure your own bank financing. The interest rate and the length of the loan will impact how much you will pay overall.
Set a budget
If you are not paying for your car in full, you'll need to determine what monthly payment you can afford. According to Edmunds, the average monthly payment in 2021 is $482 for new cars and $356 for used cars.
A few things impact your monthly payment:
Your credit score
The loan amount
The loan length
The interest rate on the loan
Your credit score will determine your interest rate, which in turn will affect your monthly payment and how much more you'll pay in interest. As you conduct your research, consult your personal finances, and decide what you can reasonably afford in monthly payments. To help you set your budget, we've created an automotive calculator to help you determine the total amount that you can afford to pay on your car, taxes, and document fees.
Determine your transportation needs
Keeping your budget in mind, it's important to decide what kind of vehicle you need and what features you're looking for. If you primarily drive short distances in urban areas, consider a smaller car with safety features like a back-up camera to help with parking. If you need towing power for work or recreation, you may want a utility vehicle like a truck. If you travel or have a lengthy commute, investigate more fuel-efficient models like a hybrid or electric vehicle. 
With this knowledge behind you, you are ready to embark onto this exciting stage of life. If you are looking for more information on financing your new car, you can reach out to our personal banking team to learn more.