Financial lessons from the COVID-19 pandemic
The COVID-19 pandemic changed the way we think about personal finance. From everyday spending to saving for retirement, our relationship with money looks very different from how it was at the beginning of 2020. The world may be reopening, but there are some smart financial habits from the pandemic to carry into 2021 and beyond.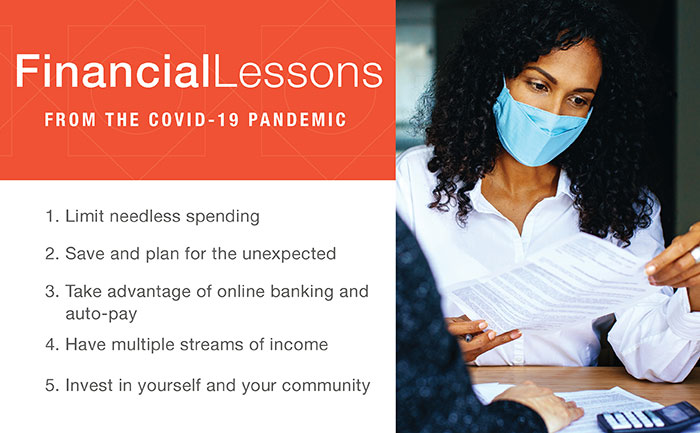 1. Limit needless spending
It's easy to reduce your spending on dining and entertainment when everything is closed but reducing spending on non-essentials is a great financial habit to continue. The Bureau of Labor Statistics 2019 Consumer Expenditure report said the average American spent $3,526 dining out, $3,050 on entertainment, and $1,883 on clothing and services that year. Between July 2019 and June 2020, spending in each of these categories was reduced by, respectively, 12%, 10%, and 13%.
Setting a budget and tracking your spending is a great way to save money. Westfield Bank's mobile banking app provides budgeting assistance with the "Manage My Money" tool. You can download the app from the Apple App Store or Google Play. 
2. Save and plan for the unexpected
When the pandemic was formally announced in the U.S. in March of 2020 and non-essential businesses were closed, millions were suddenly out of work. This stresses the importance of having an emergency fund to cover 3 to 6 months of expenses in case of illness, injury, job loss — or a global pandemic. 
Saving on a smaller income might seem impossible, but there are steps you can take to free up money to set aside. Creating a budget and looking for deals and sales on everyday items and entertainment will help reduce your monthly spending and leave some cash that you can save. 
It's also important to start saving for retirement. AARP reported 2 million older workers retired last year, and the pandemic prompted more than a quarter of workers to move up their retirement date. How much money you'll need in retirement depends on the age at which you want to retire, your current spending and savings patterns, and your post-retirement lifestyle preferences, but experts suggest saving 10-15% of your annual earnings. You can learn more about planning for retirement, specifically IRAs here.
3. Take advantage of online banking and auto-pay
Make things easier where you can. Taking advantage of online banking and auto-pay features will save you time and keep you on track toward your financial goals. It's easy to forget what bills are due and when, and setting up auto-pay can save you the stress of overdue payments. You can learn more Westfield Bank's online banking features here. 
4. Have multiple streams of income
When it comes to your income, it's safer to have your eggs in multiple baskets. Closures during the pandemic cut millions off from their one and only stream of income, forcing them to rely on stimulus payments and unemployment benefits. 
Wall Street Journal said, "Many global citizens took the pandemic as a call to action and used technology to create new income streams through blogging, selling courses, writing e-books, posting video content, coaching or consulting, setting up an online shop, investing and so much more. In the 21st century when the majority of transactions occur digitally via the web, technological literacy is as critical as financial literacy."
While not every hobby or passion project needs to be monetized, having a side hustle that supplements your income provides a financial cushion.
5. Invest in yourself and your community
Wall Street Journal said "Many people have reconnected personal finances with the things most important to them: how they use their time, how their money fuels their family and home life, what their investments support and fund, and how their careers enrich their lives. Personal finance does not exist in a vacuum; it exists in light of what we value most."
The COVID-19 pandemic shed light on the cracks in our systems, and this illumination inspired people to give back. Some took advantage of their newfound free time to purge their closets and homes and donate to thrift stores, shelters, and other outreach programs. Some even donated their stimulus checks to the variety of causes that captured national attention. The Nonprofit Times reported an increase of 7.3% in the number of donors in 2020, with small donations (less than $250) up by 15.3%. 
Others used their downtime to attend online classes and develop new skills. Some industries were hit hard by the pandemic, with some still struggling to recover. A wise step would be to invest in your personal and professional development and expand your skillset in preparation for the sweeping changes to come in the post-pandemic world.
In order to make the best of a bad situation, it's important we take what we learned during the pandemic and apply them to our plans and goals moving forward. Not only did these lessons change our relationship with our finances, but they reminded us to engage and invest in ourselves and our communities.