Fixed vs. variable – what home buyers need to know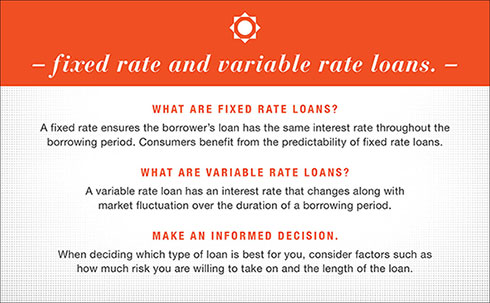 If you're in the market for a new home, you have options to consider for how to finance your mortgage. Borrowers should know the differences between two main types of home loans – fixed rate and variable rate loans. 

What are fixed rate loans?
A fixed rate ensures the borrower's loan has the same interest rate throughout the life of the loan. Consumers benefit from the predictability of fixed rate loans. Given the current historically low interest rates, new home buyers might be interested in seeking a fixed rate in order to lock in a long-term, affordable mortgage payment plan.

What are variable rate loans?
A variable rate loan (sometimes referred to as an adjustable-rate mortgage loan, or ARM) has an interest rate that changes along with market fluctuation over the duration of a borrowing period. A variable rate loan may be in the best interest of a borrower if they expect interest rates to decline with the market over the course of the borrowing period. Variable rate loans typically have lower interest rates at the beginning compared to fixed rate loans, making this an appealing option for an affordable, short-term mortgage payment plan.

Making an informed decision 
Each type of loan has its advantages and disadvantages depending on your needs. When deciding which type of loan is best for you, consider factors such as how much risk you are willing to take on and the length of the loan.
Fixed rate loans typically offer borrowers the most protections from the uncertainty of the market. But variable rate loans can also have protections in the form of interest rate caps. Borrowers worried about interest rates rising to unaffordable levels during a loan should seek a rate cap at a level they can afford. When looking to buy a home, you should work closely with a banking professional who can offer a loan that meets your unique needs.