How can you get the most value out of your banking relationship?
As a business owner, you should expect more from a relationship with your banking partner. On the surface, this means finding a bank that looks out for your financial interests so you can focus on your operations. However, an in-depth relationship with a banking partner should create mutual value.
Below are three ways you can tap into your banking relationship to ensure you get the most value.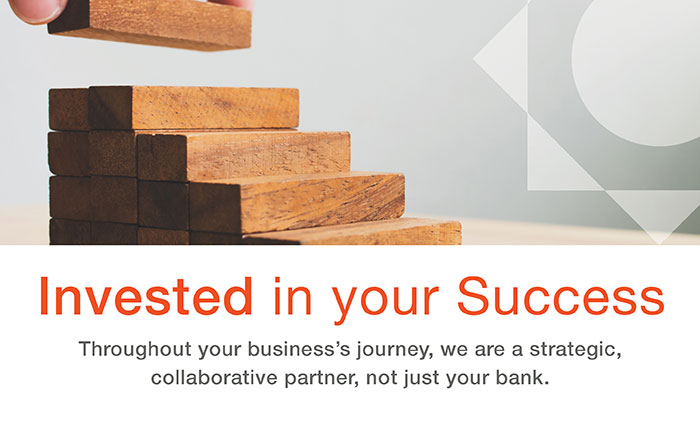 Seamlessly manage your cash flow

Having a well-managed cash flow can serve as the driving force for your company's financial growth, ensuring your capital is prepared and ready to be used for daily operations, purchases, inventory, and operating expenses while maximizing liquidity and earnings.

The right banking partner has tools and services to seamlessly integrate all elements of your cash flow. Ultimately, this provides a complete view of your company's assets. For example, Westfield Bank offers treasury management business solutions, which holistically centralize your company's financial operations for enhanced control, growth opportunities, and security. 

Additionally, various treasury management tools are available depending on your company's needs, such as:

•    ACH 
•    Account transfers
•    Bill Pay
•    Positive Pay
•    Remote deposit capture
•    Sweep accounts
•    Wire service

With treasury management tools supporting your back-office operations, it becomes simple to automate payments on bills and collections, forecast and optimize your cash flow, and move funds between accounts in seconds.
 
Facilitate new and prudential relationships

Networking is not only key for personal growth but important for your company's development as you seek new business opportunities, industry expertise, and market visibility. Not reflected in your balance sheet, networking is an investment in people and often one of the most valuable assets for a growing business.

So, how can the banking partner help grow your network?

Through deep relationships built on trust and confidence, we develop networks and connections with the businesses we serve. A bank, like ours, creates value for customers by serving as a catalyst for connections and building platforms for like-minded small business owners, entrepreneurs, and centers of influence. These connections offer customers access to critical thought leaders and valuable opportunities to share rewarding experiences, expertise, and form prosperous partnerships.
 
Receive unparalleled financial expertise

Having the right dedicated and knowledgeable team of banking professionals is critical whether you're aligning your banking and taxing goals, selecting a business checking account that fits your needs, or seeking loans and lines of credit for working capital. Direct access to experts as well as financial intelligence shared via video and podcast series, events, and webinars guide you throughout the business lifecycle.

Most importantly, having a bank that understands your business, or even has experience in your industry, creates a new opportunity for your bank to serve as a strategic financial partner. Having a relationship beyond banking provides a path forward for your business. Through times of prosperity and times of challenge, a strategic, collaborative partner puts you first, ensuring your business's financial plan is empowered with the expertise to achieve your short- and long-term goals.  

At Westfield Bank, we believe that thriving businesses are the foundation of healthy communities. As such, we're committed to providing genuine financial care and planning for each business we serve. Understanding your business and its banking needs allows us to present the right recommendations, tools, and products to empower your operations.
Invested in your success
As a full-service business banking partner, we're proud to provide our customers with personalized financial solutions.