How to budget for a summer road trip
As the weather gets warmer and the sun brightens our days, the prospect of a time-honored tradition for many comes to mind: summer vacation. While this year's trip may be different than many others, after quarantining for months at home, taking time away from work or your home can serve as a welcome opportunity to rejuvenate yourself and enjoy quality time. 
A well-planned road trip can serve as a unique summer vacation and can be a safer alternative as we do our part to limit the spread of COVID-19. While a road trip may be a change of pace from typical summer plans, budget consideration is still an essential part of any summer vacation. 
Below are four items to consider when planning your summer road trip.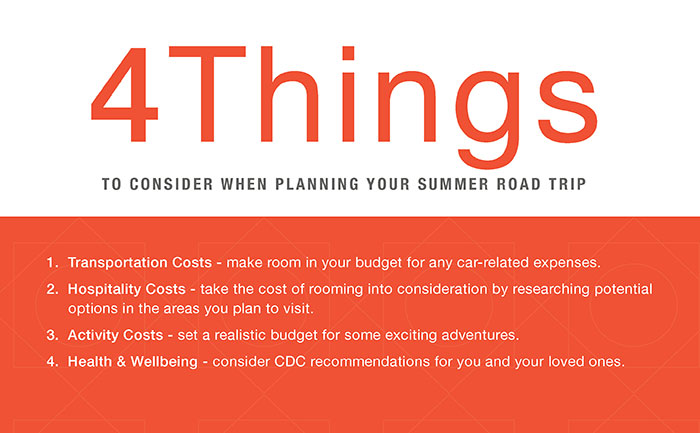 Transportation costs

As the main mode of transportation for your summer road trip, it's important to make room in your budget for any car-related expenses. Start by creating a budget to ensure your car is road-ready, checking the condition of all vehicle parts. In this way, you may avoid any costly emergency maintenance and maximize your gas mileage. 

With this, you should budget for the cost of gas. Research the gas prices in the areas you plan to visit and take careful consideration to compare the total miles you'll be traveling to the miles per gallon available with your car. This will help you set a realistic budget based on the exact gas needed.
 
Hospitality costs

While some may choose an alternative lodging option (i.e. RVs or campers), many options are available to safely stay indoors. When planning your summer road trip budget, take the cost of rooming into consideration by researching potential options in the areas you plan to visit. 

Additionally, food costs can be calculated by planning a grocery trip or searching for takeout restaurants that you'd like to visit. Keeping in mind the amount of food required can shift on a per person basis, budget based on the quantity and cost of meals, including snacks, based on your preferred dining styles and options.
 
Activity costs

Summer vacations are rarely complete without engaging activities. From hiking to sightseeing, there are many outdoor and socially distanced activities you could participate in. With some research into the potential options available to you, set a realistic budget for some exciting adventures. 
 
Health & wellbeing

Before you consider traveling, we recommend that you view cases in the state you are traveling to by reviewing the U.S. Centers of Disease Control and Prevention's (CDC) COVID Data Tracker. If you plan travel, here are some important questions the CDC recommends that you ask yourself and your loved ones before you travel:
Are you, someone in your household, or someone you will be visiting at increased risk for getting very sick from COVID-19? If you get infected you can spread the virus to loved ones during travel and when you return, even if you don't have symptoms. If your household includes one or more individuals at increased risk for severe illness, all family members should act as if they, themselves are at increased risk. Learn how to protect yourself and others.
Are hospitals in your community or your destination overwhelmed with patients who have COVID-19? To find out, check state, territorial, and local department websites.
Does your home or destination have requirements or restrictions for travelers? Check state, territorial, and local requirements before you travel.
During the 14 days before your travel, have you or those you are visiting had close contact with people they don't live with? 

The following activities can put you at higher risk for COVID-19:

Going to a large social gathering like a wedding, funeral, or party.
Attending a mass gathering like a sporting event, concert, or parade.
Being in crowds like in restaurants, bars, fitness centers, or movie theaters.
Taking public transportation like planes, trains, or buses, or being in transportation hubs like airports.
Traveling on a cruise ship or riverboat.
 

Do your plans include traveling by bus, train, or air, which might make staying 6 feet apart difficult?
Are you traveling with people who don't live with you?
If the answer to any of these questions is "yes," you should delay your travel.

Plan your Bankcation with us
It's time for a new summer adventure. Take it with a bank that understands that the journey is as important as the destination. Guided by personalized attention, products, and services, let's create a financial roadmap designed to help you navigate the path to your personal goals.