How to choose the right bank for you
Selecting the right bank can provide a valued partnership beyond simply managing your finances. You should expect more from a relationship with your bank. On the surface, this means finding a bank that looks out for your personal interests, like security and growth. However, a personal relationship with a banking partner should create mutual value.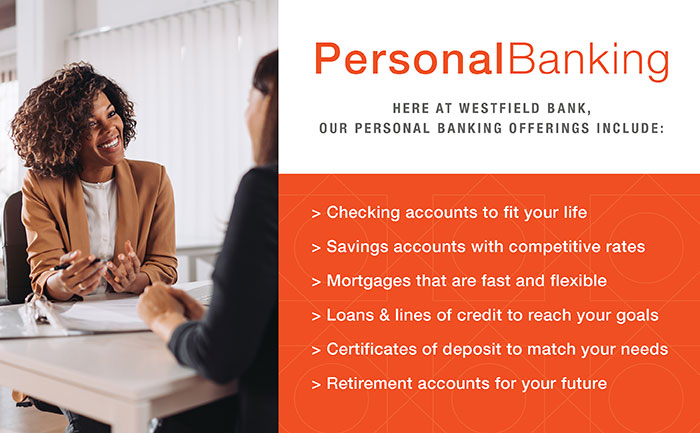 So, how can you go about selecting the right banking partner?
Below are five questions to ask before selecting your bank.
1. What services do you need
When analyzing banking services, it's critical to consider all of your current and future financial needs. Each bank provides unique service offerings and structure, making it important to ensure your requirements are achievable through a bank's offerings. Some banks may even offer new, digital ways to bank.   
Here at Westfield Bank, our personal banking offerings include: 
2. Will the bank understand your needs?
Having a bank that understands your personal banking needs creates a new opportunity to serve as a strategic financial partner. A relationship beyond banking provides a path forward to financial freedom.
We offer industry-leading rates, truly personalized service, incredible convenience, and the latest in technology, all to help make your banking better. Our personal banking team takes the time to get to know you and your unique financial needs. With expertise and guidance, we will partner with you to create a financial path that achieves your goals.
3. How is the bank's customer service? 
Unparalleled service can help you navigate any situation. Where other banks may view you as a number, at Westfield Bank, your financial needs are our highest priority. As our customer, we are invested in your success and ensure our work is seamless and timely.
"Banking can't get much easier than with Westfield Bank. They meet me wherever I am and however I can. Whether it's in-person, on the phone, or over the internet, my banking needs are always taken care of." — Jeff W., Westfield Bank personal banking customer
4. How does the bank create value for its customers?
We work hard to provide value for our personal banking customers through various service offerings, like our online and mobile banking capabilities. We believe that free online and mobile banking means the freedom to experience faster service. In this way, you can securely manage your money 24 hours a day, seven days a week from your internet-connected device or phone.
With online banking, you can check your account balances and transactions in real-time, pay bills instantly, make loan payments, transfer funds, and update account information from the convenience of your home or office.
Our mobile services allow you to take Westfield Bank with you wherever you are and manage your money anytime and anywhere from your mobile device with the My Westfield Bank app. You can view real-time account balances and transaction history, receive account alerts, and update your account information.
You can enjoy 24-hour banking at your fingertips. Our Deposit Automation ATMs provide you with convenient access to your funds and deposit capabilities at any time and any day – along with greater security. 
5. Will the bank be there for you when you need it?
Throughout times of prosperity and times of challenge, having the right banking partner can provide guidance and empower your financial decisions. At Westfield Bank, we believe that challenging times are best navigated together. 
"I've worked with banks where I feel like I'm a number and there's no promise that they'll act in my favor. It's different with Westfield Bank. Their people always treat me with dignity and respect. They genuinely care about me beyond banking." — Dan B., Westfield Bank personal banking customer
Banking designed with you in mind
At Westfield Bank, we're committed to providing financial care and expertise for every customer we serve. Let's start banking better together.