Banking inspired by insurance heritage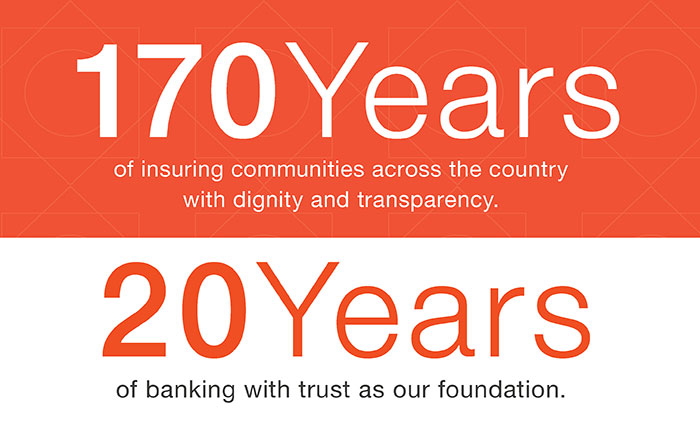 For many, Westfield is a household name, especially for agents like you that live and breathe insurance. After 170 years of insuring communities across the country with integrity and transparency, Westfield is a highly trusted name for good reason.
With trust as our foundation, twenty years ago, Westfield Bank was founded on the belief that true partnerships and connections amongst businesses create the opportunity for growth and success. Our deep expertise – rooted in our insurance heritage – allows us to support you with solutions specifically crafted to meet your unique business challenges. For our agency clients, this means the solidity of their business – and, for many, their livelihood. This is how Westfield Bank began – by seeing a need, and meeting it. It's what drives us to create custom solutions for agency clients every day.
 

Expand your book of business
As advocates for and stewards of the insurance industry, we understand that you have limited options with traditional banks without hard assets and tangible collateral. So, we'll work with you based on your book of business and together, envision a brighter future for your agency. 

Finance solutions designed for agents
Through our synergy with Westfield Insurance, coupled with our understanding of the experiences that can make or break the success of an agency, we have developed lending products custom-made to fit your needs. These provide you capital to:
Merge with or purchase other agents
Transition ownership
Hire new producers
Access lines of credit
No matter what is in your book of business, our team is there to walk the path with you, providing the best practices and insights you need to make informed decisions throughout the process.

Evolving perpetuation and mergers & acquisitions
The road to expanding your book of business can take many paths. Some agencies, like the United Group Alliance, have partnered with us to make strategic business acquisitions. We've also collaborated with agencies going through an ownership transition to secure their future and continuity through thoughtful succession planning. Regardless of the path ahead, we are here to assist as you consider mergers and acquisitions, or other perpetuation strategies.
Learn what we can do to ensure your success during this transition directly from current customers. In our Sharing Knowledge Series, host Kevin Vonderau (EVP, Chief Lending Officer, Westfield Bank) speaks with Scot Flueckiger, corporate controller at UIS Insurance and Investments, and Mike Wager, SVP and market leader of agency banking at Westfield Bank. Their conversation details the process and provides helpful insight into what you can expect should this be a growth or transition strategy you are considering. Listen to the podcast or watch the video here.

From agency to personal solutions: Meet your dedicated, full-service financial partner
Our devoted team of bankers focuses solely on working with insurance agents, providing you with true expertise and dedication to advance your agency every step of the way.
Explore all our financial solutions to empower your agency:
Conveniently and efficiently provide funding that covers the costs of your clients' commercial insurance premiums through premium financing 
Experience deposit solutions designed to securely and accurately manage your agency's finances
Ready for your agency's next step? Connect with our agency bankers today. 
We also understand your own sophisticated financial requirements as an agency principal. With Westfield Private Banking, our focus is on your unique goals and providing personalized solutions and expertise extending beyond traditional banking services.
Access to exclusive lending discounts, competitive rates on home equity lines of credit, and elite special events are a testament to the valued relationship we will forge together.
Ready to put your money to work and experience the benefits of Westfield Private Banking? Learn more.