Keep your agency ahead with treasury management
Previously, we touched on how vital it is to understand your agency's worth through the valuation process. Top line revenue for an agency is the fuel for the growth engine, but successfully managing your liquidity and cash flow is the oil that keeps everything running smoothly. Managing your cash flow and working capital enables principals and executives to not only manage and cover their obligations, but to build liquidity and reserves. Our treasury management services can easily help you streamline and manage your finances with greater control, efficiency, and security. 
What is treasury management?
Treasury management services are tools to help you streamline and manage your finances with greater control, efficiency, and security. Typically linked directly to your cash flow cycle, these tools create practices that will ensure your agency has:
greater cash flow visibility for forecasting and reporting finances, allowing for more informed business decisions and planning
simplification and optimization over your daily operations, from anywhere, with the convenience and flexibility of digital banking solutions
maximized your working capital and liquidity so that bills and other financial obligations are met while allowing room for investments or growth opportunities 
mitigated risks with added security tools to reduce or prevent fraud and prepare for the unexpected
Treasury management solutions can increase efficiency and lower costs for your agency. It's important not to overlook the significance of treasury management options as a tool to foster your agency's growth.  
Find the right tools
As a full-service banking partner, we offer agencies and business owners several specialized treasury management packages that combine tools to meet your unique needs so that you can stay ahead.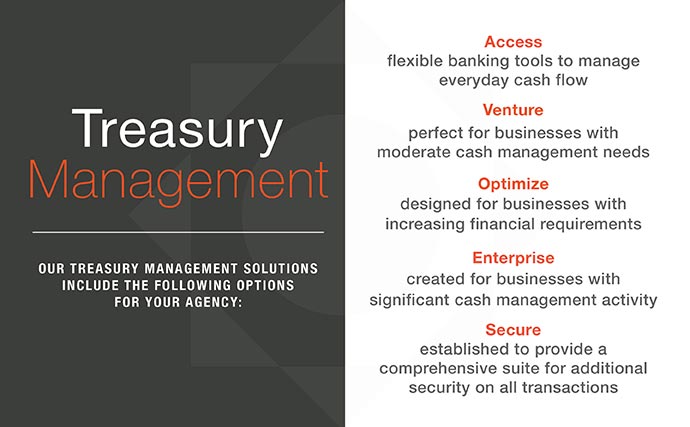 We are dedicated to the success of your agency and the clients that you serve. Connect with Jen Wigal, our agency banking treasury management specialist, to learn how we can maximize your cash flow, access working capital, manage risk, and simplify day to day operations.