How to pay for college
Preparing for college can be daunting and confusing. U.S. News reported, "... the average cost of tuition and fees for the 2020–2021 school year was $41,411 at private colleges, $11,171 for state residents at public colleges and $26,809 for out-of-state students at state schools…" Luckily, there are many ways to pay for college, and we are here to help.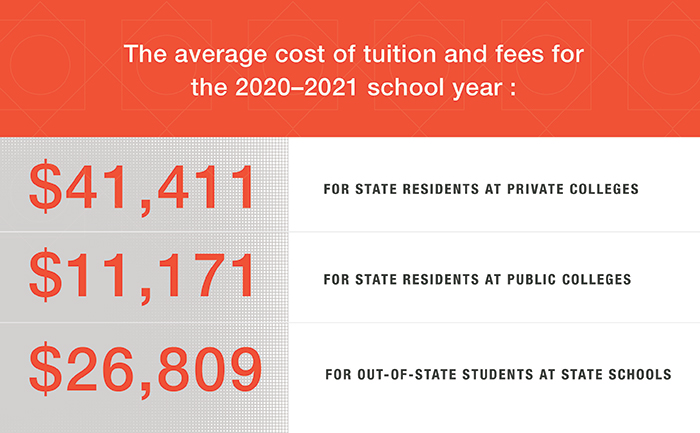 Save up
Saving up before college and paying out-of-pocket is the best way to pay for college if you want to avoid taking out loans. While you can save in a regular savings account, you may want to consider using a 529 plan. A 529 plan is a tax-advantaged savings account specifically designed for higher education. The money, while in the account, is exempt from income tax, and withdrawals for qualified expenses are usually tax free, too.
Take advantage of FAFSA
There is more to the Free Application for Federal Student Aid (FAFSA) than student loans. Your application also makes you eligible for scholarships, grants, work-study opportunities, and school-based aid. According to NerdWallet, "High school graduates who don't complete the FAFSA leave behind billions of dollars in unclaimed federal Pell Grant money."
Negotiate with your school
You don't have to accept your initial financial aid award. You can negotiate with your campus' financial aid office if:
Your Expected Family Contribution/household finances have changed
Your academic record has improved and made you an eligible candidate for merit awards
You have a better financial aid offer from another school
Some schools also offer an income-share agreement. According to Student Loan Hero, "Unlike a traditional loan, there's zero interest accruing onto what you owe...An ISA can lessen the chance of default, and many agreements are capped at 10% or 15% of income, ensuring affordable payments."
Earn credit hours early
You can save money on credit hours through concurrent enrollment. Some states allow high school students to take college-level courses and earn credits before they graduate. These credits can then be transferred to your college or university, reducing the number of credit hours you have to take (and pay for) once you enroll. Concurrent enrollment classes are usually less expensive and may be covered by the state or the school district. 
Talk to your employer
Many employers offer tuition assistance or tuition reimbursement through a professional development budget. Reach out to your supervisor or a human resources representative to find out if your employer offers this resource. 
Working in public service, the military, or for a non-profit may qualify you for tuition assistance or loan forgiveness. This includes careers in public safety, law enforcement, healthcare, education, and more. Some organizations like the Peace Corps and Teach for America offer student loan-repayment assistance for volunteers.
U.S. Military service members are eligible for tuition assistance, and the Post 9/11 GI Bill provides up to 36 months of education benefits for college, technical/vocational training, licensing, and more. 
Furthering your education does not have to result in massive debt. It is an investment but paying for college is possible with these options and resources.