Predatory lending – what you need to know to protect yourself 
The threat of predatory lending is very common. That's why we're here to explain what predatory lending is, how to identify it, and ways you can avoid falling victim to a predatory lender.
What are predatory loans?
Predatory lending is defined as any practice that uses deceptive, misleading, or abusive loan terms on consumers. Predatory lenders often target vulnerable consumers who might not have any other loan options to pursue and offer loans that the consumer likely won't be able to repay. These loans are not in the consumers' best interest, as victims of predatory loans can become trapped in a harmful, financially damaging cycle of debt. 
The issue of predatory loans has grabbed the attention of state and federal lawmakers in recent years, as legislation has been introduced and debated in recent years to reign in this practice. Ohio took steps to protect consumers with the passage of the Fairness in Lending Act in 2018.
How can I identify a predatory lender?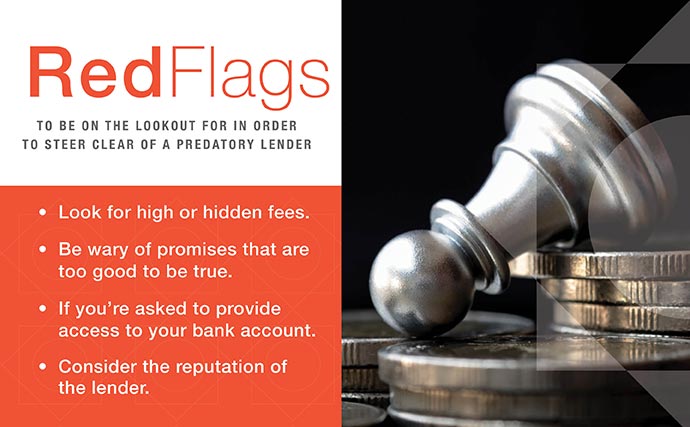 There are several red flags you should be on the lookout for in order to steer clear of a predatory lender. Here are the main ways you can identify if a lender is trying to take advantage of you: 
Look for high or hidden fees. High interest rates and other fees are common tactics used to take advantage of borrowers. Be sure to read through the terms and conditions and look for sections that list the fees, penalties, and payment details. 
Be wary of promises that are too good to be true. If a lender promises not to check your credit score, there is a good chance they are using deceptive practices. Avoid taking a loan that you know you can't afford with your current income. It's also important to be wary of loan offers at the point of sale to "buy now, pay later". These loans can hurt your credit score if the payments aren't made on time. These loans are appealing since they give the option to pay off a purchase in installments over a fixed period of time, but experts advise caution. 
If you're asked to provide access to your bank account. This gives the lender the ability to automatically withdraw the loan payment from your account when it's due. While it's common for financial institutions to offer services such as autopayments, which requires access to your bank account, this should not be a requirement for obtaining a loan.
Consider the reputation of the lender. Utilize the Consumer Financial Protection Bureau's online database to view complaints against a particular lender. 
For a more detailed explanation of predatory loan practices and what to watch for, read the Federal Deposit Insurance Corporation's (FDIC) guidance. 
How can I avoid falling victim to a predatory loan?
Understanding what a predatory lender is and the threat these loans pose to your financial well-being and knowing the warning signs that a lender is looking to take advantage of you are the best ways to avoid becoming a victim. 
Westfield Bank is here to protect your financial security and to help you meet your goals. For more security tips to help protect your financial well-being, click here.