Financing your acquisition
As a leader in the financial advisement and wealth management industry, we know that you're focused on new ways to grow your firm. At some point, you've probably considered pursuing an acquisition – an effective way to build upon your success.
It's one thing to set your sights on an acquisition. It can also present some challenges from financing considerations to managing multiple perspectives from various parties. If you're thinking of growing your firm through acquisition, we have some tips for you to take into consideration before financing your firm's next move: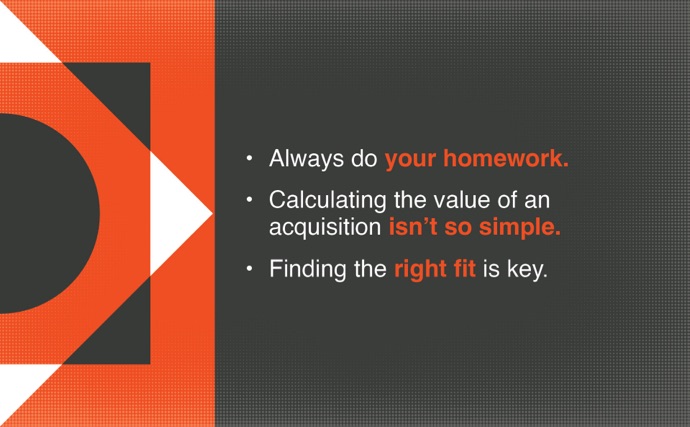 Always do your homework. You wouldn't hire someone for a top job at your firm without an extensive screening and interview process on the front end, diligence applies the same concept to ensure a successful acquisition. To make an informed purchasing decision, with greater certainty you'll want to apply this diligence to understanding the seller and what exactly you'll be acquiring, including their current finances, employees, customers, and contracts.
Calculating the value of an acquisition isn't so simple. Determining the value of the acquisition would be easy if all you had to do was combine the profitability of the seller with the profitability of your firm. Calculating the value of an acquisition requires you to go a bit further, asking questions such as:  How do the combined agencies complement each other? How can this increase our value over the long run? What new physical capital will my firm be acquiring?
Finding the right fit is key There are financial, operational, and cultural factors to consider here. Financially, will you simply break even or will you see increased profits and cash flow from the deal. Operationally, how will acquiring the seller's book of business align with what you currently have? Culturally, how will your team gel with the talent and producers that might be joining your firm through the acquisition? These are all important questions to ask yourself throughout the acquisition process. If you're not sure about any of these questions, it might be worth holding off on committing to an acquisition.
You're not in this alone
As always, it's important to remember that your pursuit of financial growth doesn't have to fall squarely on your shoulders. That's why our investment advisory banking team is ready to give you the tools and guidance every step of the way.