Investing in Talent & Tech to Accelerate Growth
Nothing drives a company forward more than access to tools and top-tier talent. The success of your business depends upon the tools and support available to your team, so here are some tips on investing in your team and technology to accelerate growth.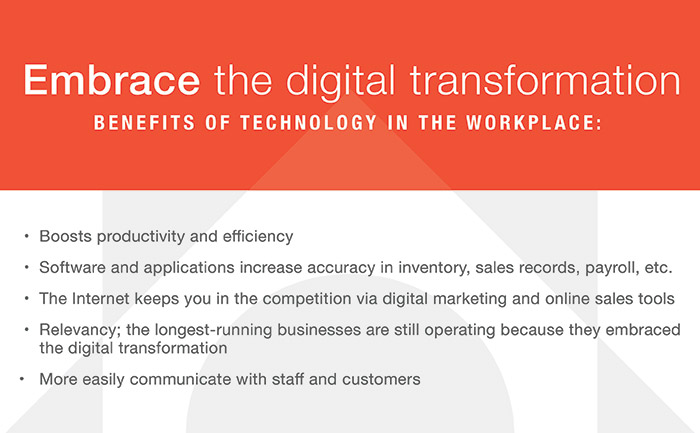 Embrace the digital transformation
Technology is critical for any workplace to survive and thrive in the modern business world. PricewaterhouseCoopers reported, "This year, from our survey of 2,380 executives around the globe, we discovered a group of companies that consistently invest in new ways of working and get significant value on their digital investments in every area we assess—from growth and profits to innovation, customer experience, people and more. They're the winning 5%."
Benefits of technology in the workplace:
Boosts productivity and efficiency
Increases accuracy in inventory, sales records, payroll, etc.
Keeps you in the competition via digital marketing and online sales tools
Maintains relevancy; the longest-running businesses are still operating because they embraced the digital transformation
Eases communication with staff and customers
Learn more about empowering your workforce with technology in episode five of Westfield Bank's Sharing Knowledge series. 
Support your team
Even more important than investing in new technology and tools is investing in your team. For a majority of employees, benefits are a determining factor in their decision to accept or decline a job offer. But there are ways to invest in your team beyond the standard benefits package.
Provide health insurance. A study from the Employee Benefit Research Institute discovered that 88% of workers view health insurance benefits as far more important than any other workplace benefit.
Prioritize mental health. In the aftermath of the COVID-19 pandemic, more and more businesses focus on building trauma-informed workplaces that provide mental health resources. Companies are also developing framework that supports neurodivergent workers, which includes people with autism and ADHD.
Create a professional development budget. Providing a way for employees to expand their skillset increases efficiency and builds their confidence. 
What you put into your team determines your company's future. Take advantage of modern technology to reach your goals and help your team succeed. 
Your success is our priority, which is why we at Westfield Bank leverage technology to make our customers' experiences easy and convenient, and we are committed to providing you with the best digital banking tools.