Planning for your retirement
Whether you've had a long, successful career or you're just getting started in the working world, it's never too soon – or too late – to begin planning for your retirement. Retirement planning is a long-term process that typically starts in the early years of your career, but as you get older it can be tricky to decide when the right time is to retire.
Here are some considerations you'll want to factor into your retirement planning: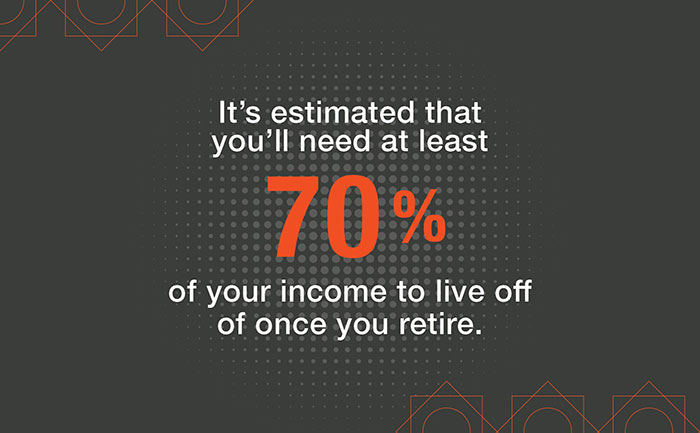 Start planning 
It's recommended that you begin putting aside earnings for retirement as early as possible, decades before you expect to retire. But no matter what stage of your working career you're in, it's never too late to start planning. Many employers offer retirement plans such as a 401(k) or a Roth IRA. These allow you to automatically contribute a fraction of your income into an account that will be available to you when you retire. If your employer doesn't offer one of these plans, you can join one on your own or ask your workplace to start one.
It's also important to prioritize your financial goals. It's easy to focus on short-term goals, such as paying off credit card debt or student loans, which can make it tempting to overlook your retirement goals. Even if it's a small amount, making consistent contributions starting at an early age can go a long way once you retire. For the same reason, try to avoid touching your retirement savings while you're still working.
Westfield Bank offers personal retirement accounts with a range of features and benefits.

Know how much money you need to retire 
As you get closer to your retirement age, you'll want to predict what your monthly cost of living will look like during retirement. It's estimated that you'll need at least 70 percent of your retirement income to live off of once you retire.  For example, if you are making $100,000 a year before retirement, you should expect to need at least $70,000 a year during retirement. Once you have an idea of how much you'll need to retire, it'll make it much easier to know if, and when, you can stop working.
You can utilize Westfield Bank's retirement calculators to help you prepare:

Understand your Social Security benefits
The federal government estimates that Social Security income, on average, replaces 40 percent of Americans' pre-retirement income. You're eligible to start drawing these benefits when you turn 62. However, the amount you'll draw increases for each year after 62 that you wait to claim these benefits. You can visit www.socialsecurity.gov or call 1-800-772-1213 to learn more about your benefits.

Invest for retirement 
The money you set aside throughout your career may be enough to fund your retirement, but investing gives you the opportunity to diversify and grow your savings and set you up for an even more comfortable retirement. Investing is even more important when considering the effects of inflation on the purchasing power of your savings. Investing usually involves putting some of your money in the stock market with a careful, diverse, and long-term approach. Many people put the time and effort into understanding and investing in the stock market, but you don't have to go at it alone. Working with a trusted financial adviser to manage and guide your stock portfolio can be a great way to multiply your earnings.

Planning for your retirement can be overwhelming – but it's important to remember that thoughtful planning will go a long way in setting you up for the retirement you deserve. No matter how long you've been working, you'll thank yourself later for being planful today.