3 tips for a successful acquisition
Mergers and acquisitions (M&A) is a general term to describe the consolidation of companies. However, mergers and acquisitions, while related, are two different ideas. Mergers combine two companies into one new business. In an acquisition, one business purchases another without forming a new company. Agencies acquire others for numerous reasons, including greater market share, increased synergy, or to expand their offerings. 
Growing your agency through an acquisition can be an exciting time. It can also present some challenges from financing considerations to managing multiple perspectives from various parties. No matter how many times you've gone through an acquisition, each one requires a unique approach. As might be expected, there's considerable work that goes into each successful acquisition.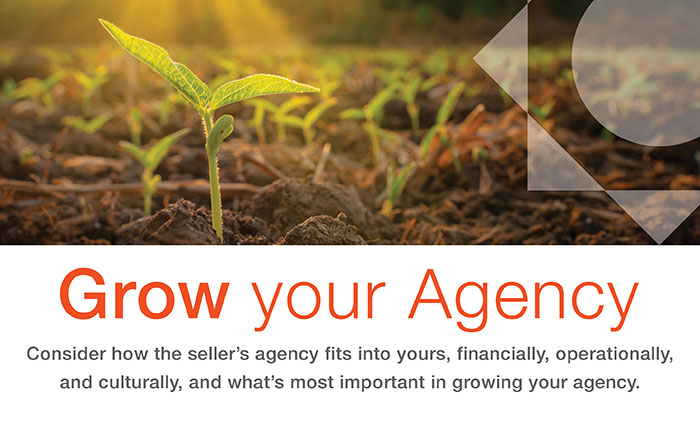 Below are three tips to take into consideration as you grow your agency through an acquisition. For a deeper dive into the best practices of a successful merger and acquisition, listen to the fourth episode of our Sharing Knowledge Series.
Diligence is key

From a financing standpoint, diligence is key. Acquisitions can be like finding a good candidate to hire for your business. You may have an initial phone screening, an extended interview, and then you might even meet for lunch to get to know the candidate better to see if it's a perfect fit. 

Diligence applies the same concept to acquisition and is a critical activity to ensure a successful transaction. After you've shared your intention, diligence allows you, the buyer, to confirm any pertinent information regarding the seller or company you're considering acquiring. This information includes insights into the seller's finances, customers, and contracts. With this information, you can make a more informed purchasing decision and, with greater certainty, close the deal. 
 
Understand the value of acquisitions

The value of an acquisition isn't as simple as adding another agency's profitability to yours. Instead, the transaction requires looking at the collective future of the two independent entities and how they can work together. In some instances, there may be potential synergies between the agencies, which would increase the overall value of both in the future. This is why diligence is so critical to understanding the implications and future of your business after making an acquisition. 

As part of this, the pro forma of what two agencies look like together is crucial to getting a deal done. Pro forma financial documents facilitate comparisons of historical data and projections of future performance. This can help give a vision of the future with greater clarity. 
 
Find the right fit for your agency

Another critical consideration is how the seller's agency fits into yours, financially, operationally, and culturally, and what's most important in growing your agency. 

If both you and the seller have a large book of business with a specific carrier, your acquisition could gain increased profit sharing, commission, and an improved compensation structure with that carrier. Or your priority may include the seller's line of business expertise and the ability to diversify your book of business. Culturally, consider how the seller's current producers and individual talent will complement your business. Lastly, from a financial perspective, the deal and the cash flow should work for you. You want your profitability and cash flow to grow with the deal, not just break even.

Sometimes, the fit isn't right, and it's best not to move forward with an acquisition. 

We're here to grow your book of business
Our agency banking team specializes in loans for insurance agencies, working solely with agents like yourself. Our bankers will work with you to understand your agency's unique needs, developing financial solutions to achieve your goals.