You want to move – but where to start?
While it can be tempting (and, let's face it, fun) to start browsing properties for sale immediately, there are a few things to consider beforehand. The purchase price, of course, is the most significant factor – but other items such as closing costs, realtor fees, annual maintenance, utilities, taxes, insurance, and desired updates are all part of the broader budgetary bottom line. While other mortgage lenders offer standard solutions, we work to customize financing to meet the realities of your lifestyle.
Our originators begin by helping customers build a financial roadmap, clearly itemizing costs, and making a plan to prepare them for each step.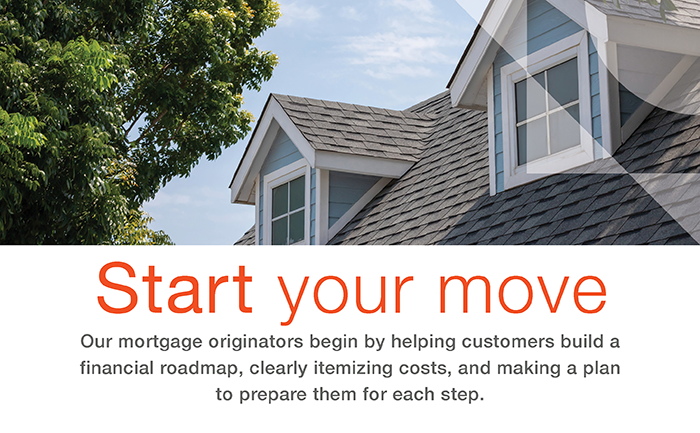 What exactly is a mortgage and what other financing options exist?
A mortgage is an agreement between an individual and a financial institution (often referred to as the "borrower" and "lender") that allows for the financing of a purchase – in this case, a home – over time. The time frame, interest rate, and monthly payment are established at the time of signing. In addition to a standard purchase mortgage, other products exist that allow each borrower to tailor financing to suit their needs. These include:

What is a prequalification letter – and do you need one?
With real estate inventories seeing record lows in 20201 and competition in the buying process escalating, it's a good idea to present yourself as a competitive buyer. One tool that indicates your viability is a prequalification letter from one of our bankers. This letter will estimate your borrowing power based on your current financial status. While this letter is not a binding agreement, it is a formal endorsement from your bank of your ability to successfully fulfill your obligations through the purchase process, indicating to the sellers that you are committed to coming to terms quickly. The speed of the deal, often contingent on financing, can be a deciding factor for a buyer selecting a seller to negotiate with. So, it could be the difference between getting the house of your dreams, or not.

My financial roadmap is in place, prequalification letter drafted – now what?
Having a breakdown of all costs as well as a schedule for payment allows you to look at home options that fit your budget. Now it's time to match the number to your lifestyle. Whether you choose to work with a realtor or begin the search solo, you are now equipped with the information and tools you need to make an informed decision. For first time home buyers, the best way to understand what you really want to achieve out of your next move is to walk many homes, getting a feeling for:
How the space flows – Sometimes the layout can surprise you, often confirming or negating the feel you have for a home from browsing the online photos. 
Amenities – Having a check list of "must haves" can help to make the decision more rational and less emotional. Think of items such as an attached garage, outdoor space, first floor laundry, air conditioning, or other factors that contribute to your desired living experience.
Proximity – By physically visiting homes for sale, you will easily be able to understand things like commute times to work as well as to grocery stores, pharmacies, and other frequently visited locations.

Your path to home ownership begins here
Mortgages, specialty home loans, and having the right mortgage loan originator allows you to feel confident as you embark on this exciting new chapter. At Westfield Bank, our goal is to be your guide every step of the way, helping you to navigate any obstacles or questions that arise through the home buying process.