WESTFIELD CENTER, January 10, 2022 – Westfield Bank is pleased to announce that Michael Toth, current president, has been promoted to president and CEO and joined the Board of Directors on January 1, 2022. Westfield Bank operates in 6 counties in Northeast Ohio, employs 200 people regionally, and manages more than $2 billion in assets nationally.
A national search to identify the next leader of Westfield Bank was prompted when Jon Park, the Bank's founding CEO, announced in October 2021, that he would retire on March 1, 2023. Park will now assume the role of executive chairman of the Board of Directors and will partner with Toth to ensure a seamless transition.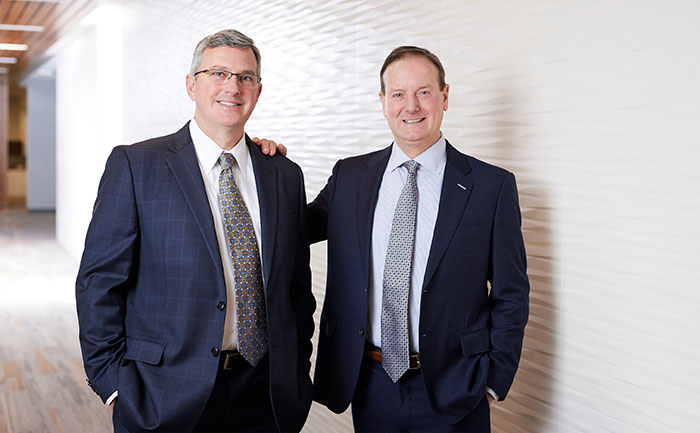 "The future is bright," said Park. "Mike's financial and business acumen, integrity, passion for empowering people to reach their full potential, and commitment to investing in talent and technology define his mindset as an exceptional leader. I look forward to seeing the continued growth of the Bank under his leadership." 
The executive search committee included four members of the Board. After conducting a comprehensive CEO search internally and externally, the Board unanimously voted to appoint Toth as president and CEO.
"On behalf of the Board of Directors, I want to personally thank Jon for his exemplary leadership over the past 21 years," said Nancy Heinen, lead outside director of Westfield Bank's Board, and retired, vice president marketing, BP. "The selection of Mike as successor demonstrates the Bank's ability to develop outstanding leaders from within. We look forward to the next chapter as Mike embraces his new role, maintains our mission, and optimizes the organization with his innovative vision for the future."
With 30 years of industry experience, Toth maintains a sound leadership approach, broad functional expertise in all lines of business, and dedication to optimal customer experiences and delivering results. After working for other national financial institutions, he joined Westfield Bank in March 2017 as chief experience officer. He was promoted to president in May 2018 with the responsibility of managing all revenue generating lines of business.
"I am honored to have been selected as Westfield Bank's next president & CEO, and to build on the Bank's history, strength, and momentum to deepen our support of the community" said Toth. "I look forward to working with the dedicated team to forge a brighter future for customers, employees, and partners."