How can investment advisors build their customer's confidence?
The last two years have been challenging for everyone. The pandemic has dramatically changed our lives and affected everything from supply chains to the economy to the health of people across the globe. During these times, we are reminded of the importance to care for those around us. As an investment advisor, you care about your customers and their ability to improve not only their financial outlook, but their quality of life. There's no better time to build or rebuild your customer's confidence.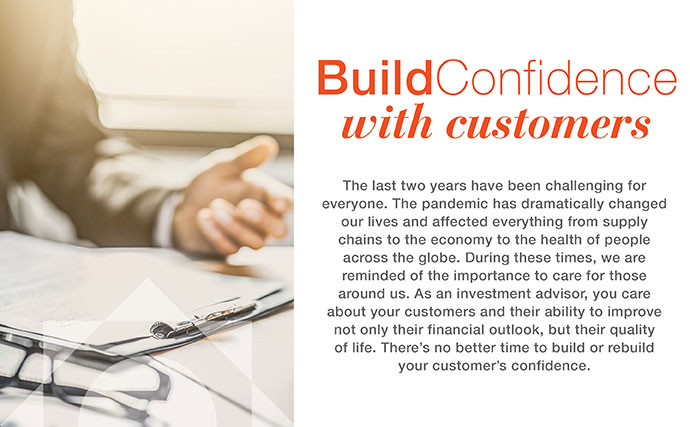 Nurture close relationships
Relationships that are transactional are limited in depth and breadth, which is why wealth planners and investment advisors dig deeper to nurture transformational relationships. This requires listening with intent, inquiring with compassion, and communicating with empathy. Understanding your customer beyond their portfolio and knowing their personal needs and wants, will help you to guide them in achieving their financial goals and objectives.  
Being proactive
Often, wealth planners and investment advisors focus on the horizon, predicting trends and reacting to market dynamics. During these moments however, it may be important to evaluate your customer's current needs and guide them so that they are not surprised by external factors, but instead have solutions to be responsive and continue working on the plan. 
Provide a personal perspective
The market has been turbulent over the last 18+ months. Due to this, your customers most likely have been staying informed by following breaking news reports. While this helps them to monitor the marketplace, the message is often not translated to their unique circumstances, which in turn, can cause confusion and fear. Your personal perspective on the market changes will provide peace of mind. 
Provide structure
During the pandemic, many people have experienced a lack of structure in the workplace and personal life, which causes uneasiness or blurs our vision for the future. Providing structure, whether this includes regular meetings, in-person or remote, to review progress, revisit goals, or interpret the marketplace will remind your customer why they have partnered with you – your thoughtful and steady approach to financial planning. 
Partners in your portfolio 
At Westfield Bank, just like you, we put our customers first and understand the value of having a strategic partner. As we all collectively recover from the pandemic, it is reassuring to know that your partners understand you and can lead with humility and compassion on the journey to financial freedom.