How to receive or send funds with a wire transfer
With online and mobile banking solutions, there seems to be endless opportunities to transfer funds - for personal transactions to friends or family members, or business transactions to vendors or partners - each with its own advantages. Beyond checks, for smaller, timely transfers, you can send money securely using an online service or mobile app. Learn more about other online and mobile banking solutions here.
For medium to large amounts, ACH transfers offer businesses a safe and secure method to transfer funds by using a routing number or ABA number (the Westfield Bank ABA number is: 041272279) and checking account number.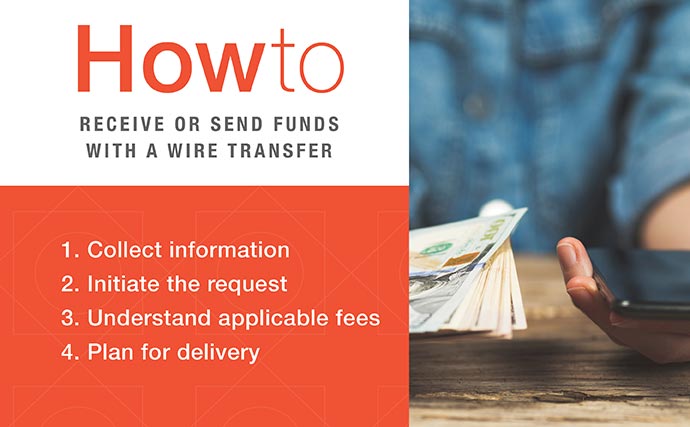 However, when you need to transfer larger amounts of money either domestically or internationally, wire transfers may be the appropriate solution. To make a wire transfer:
Collect information from the recipient and gather your information:

Recipient's full name and contact information
Recipient bank's name and contact information
Recipient bank's SWIFT code or bank identifier code (BIC): A code used to identify the country, bank, and branch that an account is registered to. SWIFT codes act as an address for where money should be sent. This code may be referenced in another way based on the location of the recipient's bank. For example, International Bank Account Number or IBAN are codes that identify international accounts and Clave Bancaria Estandarizada or CLABE are codes that identify bank accounts in Mexico.
Your government-issued identification card
Your bank account number

Initiate the request. There are a few different ways to initiate your wire transfer. Personal banking customers can complete domestic transactions using online banking, by visiting a branch, or calling our banking team at 800.368.8930 to schedule an appointment for customized, prompt support and service. Business customers can initiate wires through online banking once set up through our Treasury Management team.
Understand applicable fees. It is important to consider exchange rates as well as the implications for sending funds in foreign currency versus US dollars. There may also be other applicable fees. 
Plan for delivery. The transfer time is typically completed within 24 to 48 hours.
If these transfer methods do not work for your situation, you can arrange for Westfield Bank to send a personal or cashier's check. For regular checks, recipients may have to wait 5-7 days before accessing the money. For cashier's checks, recipients may receive the money immediately when the check is cashed. Fees may apply. Delivery time varies based on mail services and how long it takes for the recipient to deposit the money.