3 steps to charitable giving
Creating a donation plan that aligns with your budget can serve as a great way to give back to your community throughout the coming months. Additionally, as we enter tax season, there are financial benefits to charitable giving that you should be aware of. Below are three steps you can take to begin charitable giving in the new year.

Westfield Bank Employee Spotlight
Each year Westfield Bank recognizes its employees for excellence in a variety of categories with the Westy Awards. In 2021, Brenda Russell, accounting clerk, received the Humanitarian Award for her volunteerism with Blue Star Mothers of America, Inc. The organization supports our military, veterans, and Gold Star Families. Watch the video to see how giving back has enhanced her life.
 


First, set a giving goal for the year.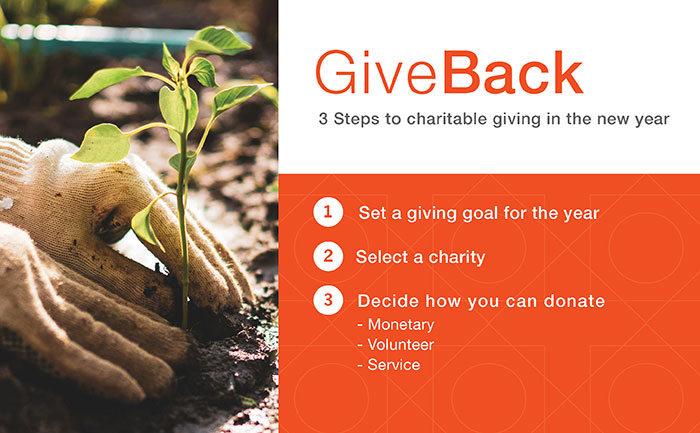 Charitable giving throughout the fiscal year begins with intentionality. By far, the best way to give within your budget is to plan accordingly with a giving goal. This can be an amount of money that you predetermine based on your annual budget or excess from the previous year, or even a decided percentage of monthly earnings through the year. Whatever you select, it's important to make sure the frequency, as well as the amount, works for your annual budget. When deciding a giving goal, take great care to consider "out of the ordinary" costs in the year, for example:
Travel
Car
Education
Weddings
Gifts 
Once you've created your giving goal, accounting for the year's expenses and annual budget, you'll have a better idea of how you're able to donate.

Second, select a charity. 
Choosing a charity that's a perfect fit for you can help your donation have an even greater impact. To do so: 
Identify your inspiration by setting goals for your donation based on your passions, values, and beliefs
Locate the geographic scope of your inspiration (i.e. local, regional, national, or global) to impact a specific population with your donation
Align the inspiration and population behind your donation with an organization that shares in a similar mission 

There are several independent resources available to search for charities and evaluate organizations, so that you can ensure your donation goes to the right hands.  

Third, decide how you can donate. 
Now that you've accounted for your expenses, set a giving goal, and selected an organization to support, you can choose a way to donate that works best for you and your budget.

Monetary
By far, the most common form of charitable giving throughout the year is making a monetary donation. In addition to the joy of giving, individuals that choose this route can experience a multitude of benefits, including tax write-offs. 
A gift that gives back to you, monetary donations can be tax-deductible, meaning that you deduct the market value of your donation on your income tax return. For your donation to qualify for a tax deduction, the chosen charity must be a bona fide 501(c)(3) organization, which simply means that the organization is exempt from federal income tax. To check if a charity is registered as such, you can use this IRS search tool. 

Volunteer
Donating your time during the year can make a great impact in your community. After selecting the organization you would like to donate to, you can further explore volunteer opportunities with their team. 
If you're seeking a more flexible option, consider volunteering at a shelter or organizing a canned food collection as many local food pantries and shelters are in great need of help and supplies after the rush of the holidays.  

Service
If your abilities align with your chosen charity, consider collaborating in some way. You can donate your unique set of skills to the organization to help support a local charity. This can serve as a great way to get out into the community and provide your own expertise to address the needs of your chosen organization.

Our commitment to care
At Westfield Bank, we serve as a common thread in our community, connecting businesses, and individuals with care and financial expertise. Our trusted team of bankers is here to provide you with expertise through personalized roadmaps and solutions that empower financial growth. Let's start working together.