Over the last year, digital banking solutions continued to rise in popularity1 among consumers. These services are designed to move with you, allowing you to bank directly from your home, office, or on-the-go. The power to check your account balances and transactions in real-time, pay bills instantly, transfer funds, and update account information from anywhere are just the beginning of the benefits available to you.
Among the digital banking solutions rising in popularity is the digital wallet (i.e., Apple Pay, Google Pay, and Samsung Pay). In fact, total spending through digital wallets is projected to exceed $10 trillion in 2025, which is an increase from $5.5 trillion in 20202. With the mass adoption of digital wallets, many customers are wondering just how secure their banking information and transactions really are. Below, you can learn more about digital wallets and how to keep your financial information secure as you make purchases on-the-go.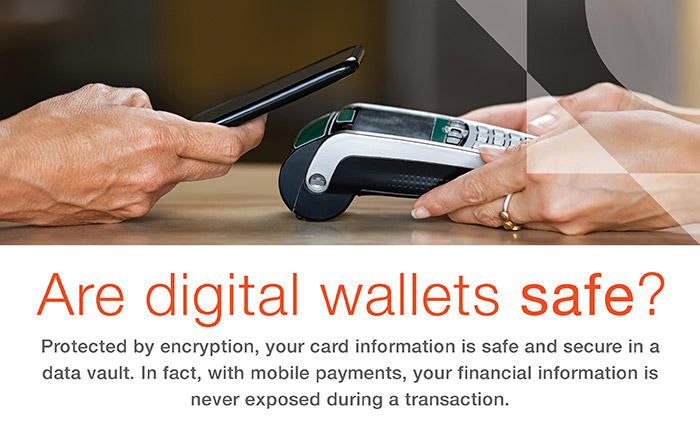 What is a digital wallet?
Digital wallets allow you to make secure purchases directly from your mobile device by linking your debit card, credit card, or bank account to an app, like Apple Pay, Google Pay, or Samsung Pay. The cards uploaded to your digital wallet utilize your account to withdraw money for purchases, just like your physical card. 
Once your card information is uploaded to your preferred digital wallet, you can use your mobile device to make in-store and online transactions. To make a purchase at participating vendors, simply tap your mobile device to the point-of-sale system instead of using your physical card. 
As our customer, you can now make secure purchases wherever you are directly from your mobile device by linking your Westfield Bank debit card to your preferred digital wallet – Apple Pay, Google Pay, or Samsung Pay. 
Are digital wallets safe?
Protected by encryption, your card information is safe and secure in a data vault. In fact, with mobile payments, your financial information is not exposed during a transaction. Instead, sensitive data is replaced with a "token" to prevent fraud during transactions. Additionally, mobile payment applications often require two-factor authentication, such as facial or fingerprint recognition technology or a security code, to complete a purchase. That way, you can rest assured that your accounts are safe and secure while you shop.
What else can you do to secure your digital wallet?
Whether you use your digital wallet to buy groceries, shop online, send money to friends, or make purchases in apps, it's important to take additional precautions to ensure your financial information is secure. There are several ways you can do so, including:
1. Protecting your digital wallet-enabled mobile device with fingerprint authentication or facial recognition 
2. Disconnecting from public Wi-Fi while making purchases, which can be used to access your account information
3. Installing or using additional security to locate your mobile device from a computer, restrict access, and wipe sensitive information should it go missing
4. Avoiding any suspicious links included in texts or emails that could be connected to fraudulent activities 
5. Signing up for security and account alerts to monitor your balances and statements, ensuring all purchases are valid and original
Learn what else we can do to ensure your financial information is secure directly from current customers. In our Sharing Knowledge Series, Kevin Vonderau, the EVP and chief lending officer here at Westfield Bank, speaks with Jarrod Long (CTP), our senior vice president and treasury management leader, and Ken Fanger, president at On Technology Partners. Their conversation details the importance of cybersecurity during this digital age as well as the security strategies you can utilize to protect your information and bank with confidence. Listen to the podcast or watch the video here.
Make payments with ease
Experience the convenience of making instantaneous mobile payments directly from your Westfield Bank account as you buy groceries, shop online, send money to friends, make purchases in apps, and more! Select a checking account designed to move with you.