Top 10 tips for secure online banking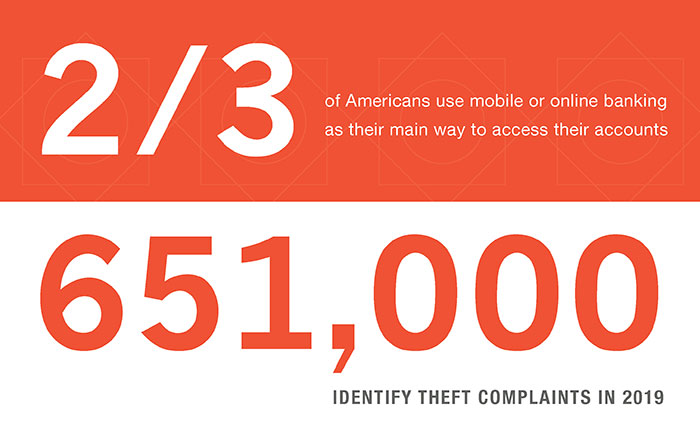 Online and mobile banking means the freedom to experience faster service and access to your accounts wherever and whenever you want. 
Currently, two-thirds of Americans use mobile or online banking as their main way to access their accounts1. These solutions empower your day-to-day financial management and should be regularly managed to ensure secure banking transactions. 
According to the Federal Trade Commission (FTC), 651,000 identity theft complaints were filed in 2019, increasing six percent since 2018. Below are ten tips to empower safer online banking so you can securely manage your money 24 hours a day, seven days a week, from your internet-connected device or phone.
 
Set up transaction alerts

Get immediate notifications about important activity in your accounts. Set up account alerts to get real-time notifications by email, phone, or text about debit card activity, preventing and detecting fraudulent or suspicious transactions.
 
As an added security measure to reduce check fraud for business banking customers, our Positive Pay Services automatically match your transaction information with transactions presented for payment against your account. 

Check Positive Pay matches each check's information presented against a list of checks previously authorized and issued by your company. ACH Positive Pay compares identifying information within an ACH debit transaction attempting to clear your account against a list of ACH debits previously authorized and issued by your company.
 

Choose strong and unique passwords

Selecting a unique password can be a great start for added security. As you do so, avoid these common mistakes: 

•  Using personal information, such as your name, address, or date of birth
•  Choosing shorter passwords
•  Relying on common words or simple number combinations
•  Choosing the same password for multiple logins
•  Not updating passwords regularly 

Enable multi-factor authentication

Multi-factor authentication adds a second layer of security, protecting your banking information, by requiring additional verification to log in to your online or mobile banking account. When logging into your account, you'll be prompted with a text or call directly to your phone and provided with a unique security code for your session. 

Start setting up multi-factor identification on your account with Westfield Bank's select treasury management solutions, Enterprise and Secure.
 

Update your device regularly

Update all your computers regularly with the latest versions and patches of both anti-virus and anti-spyware software. Ensuring your computer is patched regularly, particularly its operating system and key applications, can act as another layer of security, protecting your personal data.

For additional security, install a dedicated, actively managed firewall, especially if you're using a broadband or dedicated connection to the internet, such as DSL or cable. A firewall limits the potential for unauthorized access to your network and computers.
 

Authorize dual approval

Dual approval is a security feature that requires two separate individuals to authorize a transaction. After initiating a transaction, a secondary authentication will be required to verify the request.

Once dual approval is enabled on your account, any outgoing ACH or wire transactions will be transferred to a pre-selected list of approvers, selected by you, for authorization.
 

Monitor your statements

Remember to review your bank statements closely, monitoring eStatements or printed statements received via mail to quickly report suspicious or unauthorized activity.
 

Avoid email phishing

Phishing is an online scam where individuals send an email that appears to be from a legitimate company and asks you to provide sensitive information. 

Before opening any emails, ensure the sender is familiar to you or a trusted email source by checking the sender's email address. Scammers will often use a public internet account (i.e. scammer@gmail.com, scammer@ymail.com, scammer@hotmail.com, etc.).

However, legitimate emails concerning your bank accounts will come from a private email account, like westfield-bank@westfield-bank.com. Additionally, should you open the email, take great care not to expose your information by opening unknown file attachments or links.

Call your banker to confirm the origin of the email should you receive a suspicious email from your financial institution requesting account information, account verification, or banking access credentials such as usernames, passwords, PIN codes, and similar information. Please note, Westfield Bank will never request your personally identifiable information over email. 
 

Use a secure wireless network

Avoid using an unsecured, public wireless connection while using online banking or your mobile banking application. In settings like coffee shops, restaurants, or parks, it's possible for your personal information to be compromised without your knowledge by utilizing an unsecured network.
 

Log out of your account

Protect your personal information with the click of a button. Securely log out of your online and mobile accounts when you're finished banking. It's a simple way to ensure your account remains secure. 

Bank online and on the go with confidence 
Online and mobile banking solutions optimize your banking experience outside of physical branches. As you bank, make sure that your information is protected and regularly check what tools and resources your financial institution has in place for your security. 

Article resources
1 Federal Trade Commission, (2020). Consumer Sentinel Network: 2019. Retrieved 2020, from https://www.ftc.gov/system/files/documents/reports/consumer-sentinel-network-data-book-2019/consumer_sentinel_network_data_book_2019.pdf.