Strategies for building good business credit
Having a good credit score isn't just important for your personal finances. As a business owner, building good business credit is critical for your success. Like a personal credit score, having good business credit leads to better rates on insurance policies, gives you good standing to negotiate with your vendors, and is essential for securing financing opportunities to pursue your goals.
Understanding your business credit score
A business credit score, similar to a personal credit score, is a numerical rating assigned to a business that reflects its credit history and creditworthiness. Scores are calculated by credit reporting agencies such as Dun & Bradstreet, Experian, and Equifax. These agencies collect and analyze data about your business's financial behavior, such as payment history, outstanding debts, and credit utilization and use this information to calculate your credit score. Business credit scores typically range from 0 to 100, with 80 or above considered good and indicating a lower risk of default.
Prioritize your business credit
A good business credit score isn't built overnight – it takes thoughtful planning and a commitment to best practices over time. Here are some strategies for prioritizing your business credit: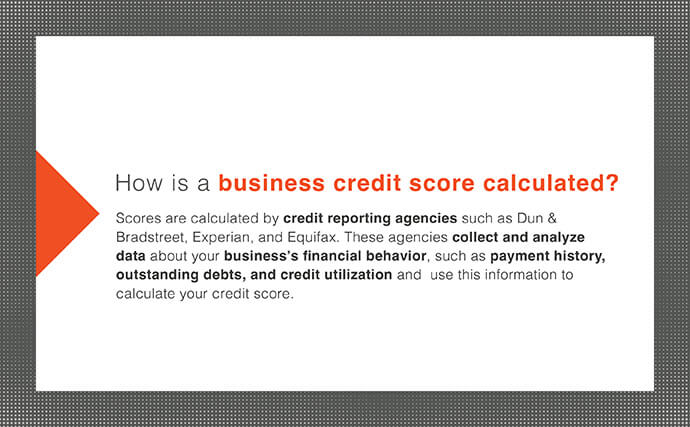 Select the business structure that's right for you: a good first step in building business credit is to make your business a distinct legal entity. This is done by structuring your business as an LLC, LLP, or corporation – and then registering your business accordingly.
Monitor business credit reports: just like you've been taught the importance of reviewing your personal credit reports to spot any errors, fraud, or score changes, the same applies to your business. Always get in touch with your business credit agency ASAP upon spotting any incorrect information on your report.
Obtain a Federal Tax ID Number: also known as an Employer Identification Number (EIN), this nine-digit number is used to identify your business for tax purposes and applying for business credit. An EIN is also needed to open a business bank account, which is essential for keeping your business and personal expenses separate. Your business can obtain an EIN for free through the IRS.
Open a business credit card: once you've got an EIN and a business bank account setup, opening a business credit card, and using it regularly is a great way to build credit. Of course, paying off your credit card bills on time is paramount to building good credit.
Establish credit with your vendors: whether it's the supplier of your office equipment or the distributor who keeps your sales floor stocked, in some cases you can have the purchases reported to credit agencies. When choosing vendors, consider selecting one that are willing to report your purchases to credit agencies.
Practice smart banking: Having a line of credit accessible not only makes practical sense for your business, but it also assists in building your business credit score. The same is true with business loans that expand your working capital. While your business checking and savings accounts do not impact your credit score, they do inform lenders about your capacity to take on more debt.
In many ways, strategies for building your business's credit mirrors the ways you build good personal credit. There's nothing like having a trusted banking partner in your corner to provide the financial foundation, expertise, and stability to empower your business decisions. If borrowing is one of the ways your business is looking to meet its short or long-term goals, Westfield Bank's services, including lines of credit, conventional and SBA loans, paired with individualized guidance and advice from our banking team can help you plan for the journey ahead.