Taking your agency to the next level
Acquiring a new agency or buying a book of business are two ways to take your agency to the next level. Being able to do either of these is exciting for your agency, as it means that you have the opportunity to grow revenue and perhaps acquire new talent needed to expand and reach new heights. This article takes a look at the key difference between buying a book vs. buying an agency, and what you need to know before deciding what's best for you.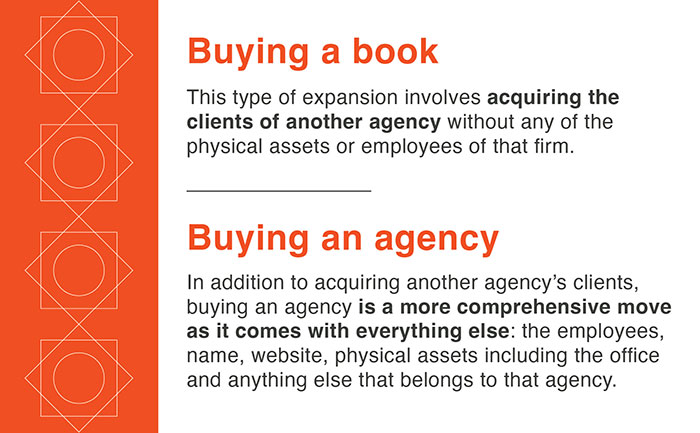 Buying a book
This type of acquisition, sometimes called a lift out, involves acquiring a book of business and perhaps a producer or team from another agency, without any of the physical assets of that firm. The concept is simple enough, but buying a portion of an agency is often a complex process that involves negotiations, non-competes, culture integration, and financing.

Buying an agency
Acquiring another agency is a more comprehensive move as it comes with all assets  owned by that agency: the clients (book of business), employees, name, website, physical assets (office equipment) and any proprietary items that belong to that agency. 

Due diligence
It's essential to work closely with a trusted banking partner, like Westfield Bank, early in the process. We live up to our motto of sharing knowledge and building trust. With many examples and success stories, our experienced team has insights and tools to help as you plan. We can help by reviewing the acquisition process with you and managing expectations around timing and action items, identifying things to look for in the agency, the book, financials, and the diligence items, and presenting ideas on how to structure financing, if capital is required to move forward with the acquisition.
When it comes to doing your due diligence around buying a book or the full agency, here is what you need to think through:
Know what you're buying. Have a detailed understanding of the clients you're acquiring. When buying a book, your banking partner will want to go through the list of accounts because we know that only seeing an agency's financials on its own won't tell the full story.
 
Understand the fit. Are you bringing over the producer, or a team (the producer and account representative)? Evaluate how the book will integrate into your agency, the value the new hire(s) will bring to your agency, and how each will align with your agency's goals.
 
Prepare your clients. An inherent risk lies in change. If a producer is retiring, make sure they have an agreement in place to help transition their accounts to avoid client turnover.  
 

The bottom line
Whichever route you choose to go, doing your due diligence on your prospects and having a trusted team of professionals in your corner to work out the contract and value of the acquisition should be prioritized. Buying a book or new agency can be a milestone in your career and for your agency, but only if it's done the right way. 
Westfield Bank's agency banking team provides you with unmatched expertise. We've been an essential partner to clients throughout many successful book and agency acquisitions and we're ready to bring that experience to you.