As an agency principal, you might dismiss the threat of fraud. "This could never happen me," you might say. But once you consider that a staggering 70 percent of organizations were victims of some form of fraud in 2021, would you still feel that way?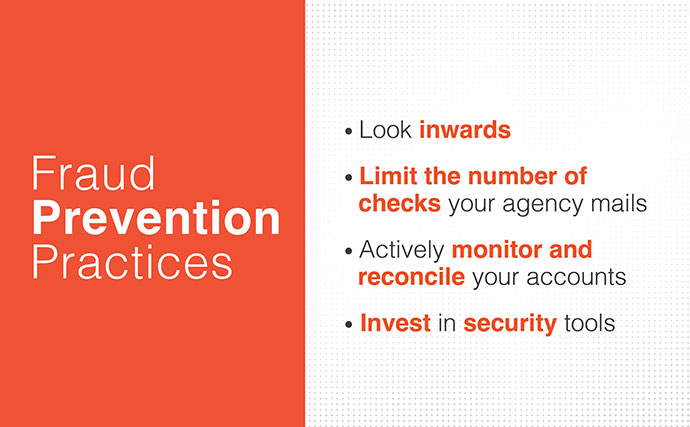 From payment scams to check fraud, attacks targeting business data and dollars are on the rise. Fortunately, there are many proactive steps agency leaders can take to protect what they've built from a devastating loss.
What fraud prevention practices has your agency committed to? Here's a list of some effective ways to protect your organization and give you greater peace of mind:
Look inwards: the first step you can take is tightening your agency's internal controls. Work with a trusted CPA to conduct an audit and provide you with recommendations and next steps. These recommendations might include

conducting employee background checks
implementing dual controls
minimizing the number of computer workstations
providing employee training to ensure all team members are up to speed on best practices for identifying and reporting potential attacks.

Limit the number of checks your agency mails: Given that check fraud is one of the most commonly reported forms of fraud, shifting to electronic ACH payments can help increase protection while also improving efficiency. When you have to mail a check, make sure to:

use a window-less envelope
drop it off inside your post office (not a drop box)
not group together multiple checks with a rubber band.

Actively monitor and reconcile your accounts: Digital banking is a great resource that allows you to access funds and move money essentially anytime, anywhere. But with that comes an enhanced need for user responsibility and best cybersecurity practices. Get in the habit of checking your business bank accounts on a regular basis (ideally each day) to catch any suspicious activity. The sooner you identify and flag these transactions, the more likely financial harm can be limited or averted entirely. Setting spending limits and turning on alerts for purchases of a certain amount are good ways to help you monitor your account activity and prevent fraud.
Invest in security tools: many banks and cyber insurance providers have been keeping up with the rising and evolving threat that fraud poses to agencies of all sizes. Westfield Bank offers our agency banking customers access to tools like Positive Pay modules for ACH and checks, reverse positive pay, and payee match, multi-factor authentication, and account reconciliation. The cost you'll pay to protect your agency will be just a small fraction of what you could lose if your security protocols are lacking.
Preventing fraud and limiting any financial losses comes down to being proactive. Regardless of the size or industry of your agency, there are steps you can take that allow you to enjoy the benefits of digital banking, while minimizing the threat of fraud. Watch or listen to our previous episodes of the Sharing Knowledge Series that focus on cybersecurity and cyber insurance for business owners.